New releases 2021
PN-1516: Prof. Alex Bradford – Feel Like Running For the Lord
During the 1950s, Prof. Alex Bradford built a tremendous following as a singer, pianist, song writer, and recording artist for prestigious companies like Apollo, Specialty, Savoy and Vee Jay Recods. In the early 1960s, he revitalized his star image by becoming a leading performer with the gospel musical Black Nativity, which thrilled audiences in Europe.
This CD takes aim at the un-reissued original recordings from Prof. Bradford's early career, 1951–1961.
Notes by Per Notini
PN-1608/1609: The Story of Michael-Righteous-Peace Records – There Will Be Joy
From the late 1960s through the 1970s, Harold Freeman and Reverend Robert Lowe operated a prolific record business in Chicago, Ill. It yielded an impressive catalogue of 45s and LPs. Freeman and Lowe offered budding gospel talents from Chicago, Detroit, and elsewhere an opportunity to record for their Michael, Righteous, and Peace labels. Among the more prominent artists were Rev. Maceo Woods & His Christian Tabernacle Choir, Donald Vails Choraleers, and the Windy City Four.
In the CD booklet notes, GRAMMY-nominated writer Robert Marovich – author of A City Called Heaven – Chicago and the Birth of Gospel Music reveals the concealed story of Freeman and Lowe's enterprise, reflected through interviews with colleagues, gospel singers and musicians, and Freeman's widow Rev. Dr. Yolanda Freeman. This CD project has been realized through exclusive agreement between Rev. Dr. Yolanda Freeman and Gospel Friend Records.
Gospel Friend celebrates ten years of reissuing Black American Gospel
Gospel Friend Records has taken as its assignment to help preserve yesterday's sounds of black gospel. Since its foundation in Stockholm, Sweden in the spring of 2002, Gospel Friend has produced reissue CDs by à capella choirs, solo singers and quartets from the late 1930s to the late 1970s.
The universal appeal of black gospel proves that this music knows no racial or ethnic boundaries. The Gospel phenomenon grew out of the Negro spirituals. These folk songs of the black slave community became famous worldwide, as they were first presented on stage by the Fisk Jubilee Singers to multi-colored audiences in the early 1870s. Then, passing through decades of artistic evolution, black gospel became a major influence in the fields of soul, rock and pop music. During the late 1900s, gospel has been associated with such personalities and icons as, James Brown, Aretha Franklin, Little Richard, Elvis Presley and Whitney Houston. In the 2000 millennium one can add the name Beyoncé Knowles.
Gospel digs deeper than both blues and jazz, to which it is closely related. Though it is often more entertaining than blues or soul or jazz or r&b, or any of the other music with which it overlaps, gospel can hardly be tagged as entertainment. Because it is an art form steeped in the Christian religion, it may appear more extreme to the world outside the church. Gospel song lyrics still talks about the teaching of Jesus in the city of Jerusalem, more than 2000 years ago. Concurrently, gospel speaks of freedom, justice and responsibility, ethic values that have spurred the thinking and politics of black American leaders in the modern world, from Martin Luther King to Barack Obama.
In August 2012, Gospel Friend arranged a performance tour in Sweden with Rev. Norris Turner, and his two daughters Cassandra & Sharon with three musicians.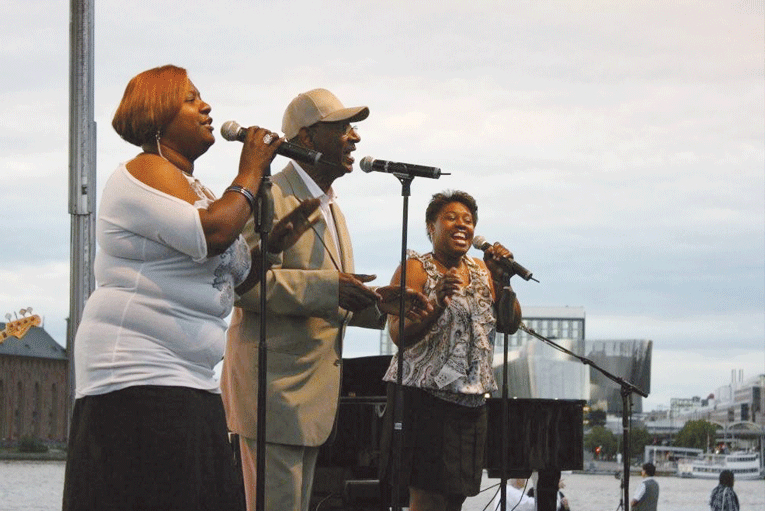 Rev. Norris Turner with daughters Sharon (left) and Cassandra (right) performing at the Stockholm International Gospel Choir Festival, 11th August 2012. (Photo: Marcus Berglund)